An interview with Alex Somervell of One Third Stories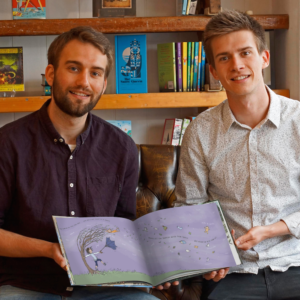 What was the inspiration behind One Third Stories?
The inspiration behind One Third Stories came from our time at 6thform together (about 10 years ago). I had just moved to the UK from Paraguay, where I was lucky enough to grow up bilingual Spanish and English, whereas Jonny had been through years of tedious French lessons, with little to show for it. We were part of a Young Enterprise project, where we published our first children's book called 'Jump on Board with Bib', which was all about travelling around the world and learning about other languages and cultures.
A few years later, Jonny read 'A Clockwork Orange' and found he was understanding some of the words in the fictitious language that is introduced throughout the narrative. We got chatting and decided to use our contrasting experience in language learning and the concept behind this hyperviolent novel to develop our Clockwork Methodology™ and create children's books that start in English and end in a different language.
It was a brave decision to turn down the dragons when you went on the Dragon's Den programme. What was the thinking behind that decision and do you feel you made the right decision? 
It was a scary decision to make! The reality was that we had a much better option on the table and would have been foolish to turn it down. The TV edit obviously didn't include that part in the final edit so we were made to look a little naïve but hey ho! Peter wasn't best pleased when we told him!
How did you go about testing the method you use to teach different languages to children and how well has it gone down with readers?
We started out with different prototype stories to test the methodology in schools with different teachers we already knew who advised in the early stages. We've since worked with the Spanish Embassy's Educational Advisory department, as well as a research programme led by UCL. The feedback has been exceptional from readers (both children and parents)! We do still have a long way to go in developing it further, which is probably the most exciting bit!
What were parent reactions when you first started showcasing the books and how has it changed over the years? 
Gosh, it's been so long since then! In the early days, the idea for the stories was to have them as an app or e-book for kids to read on phones or tablets. The early reaction from parents was "I love the idea, but can you make it a print book?" – so we did!
What languages do you have on offer?
French and Spanish, with plenty of languages to come hopefully!
How has the business evolved since you first started and what were the main challenges you faced?
The first evolution was going from a digital medium to print, which we launched on Kickstarter over two years ago. We then realised that the parents and kids wanted more stories and accompanying resources so we decided to launch a subscription option so they could receive a new story, audiobook and other fun resources every month.
The main challenge has always been in showing parents (not necessarily the children) that learning a language doesn't have to be hard or boring! The fact that we started One Third Stories straight out of university also means that we've had to learn absolutely everything and have made a tonne of mistakes along the way – from trying to follow everyone else's advice and ignoring our instincts to not taking the time to understand the production process leading to printing delays, etc. (we've generally managed to avoid making the same mistakes again though!)
What is the ultimate goal?
The ultimate goal is to inspire a love for languages from children anywhere. The sad reality in the UK is that most parents probably don't even think their children will be able to pick up languages because they themselves had a poor experience growing up, and see a similar story for their children. We want to create stories so beautiful and engaging that they are bought for that reason alone, and where learning a language is a consequence of the children loving the stories.
Do you think you will eventually also start offering clubs and classes in the different languages for children?
It's definitely a possibility, but I do think it probably makes more sense to work with the language clubs and classes that are already out there. There's lots of people doing awesome work, and hopefully we can help them with what we're doing.
How easy/difficult was it to go from the idea you first had, to shipping out the first product?
Mmm, it took us a long-time to do, but not because it was particularly difficult. The main reason it took so long was because we wanted tried to create the perfect version first (which we never got to), and then we tried to create the simplest version possible (which wasn't good enough). Thankfully we have a great team now that means that we've got the right balance between creating something great in the right time-frame, etc.
What advice do you have for other start ups and young entrepreneurs thinking about launching their fledgling businesses? 
I'd say don't think about it too much, and just start talking to potential customers and figure out what you can do for them. You can start out as a side-project and validate an idea with much less money or time than people realise, the biggest step is always the first one!