St John's Hospice – Events and Fund Raising for 2015

St. John's Hospice has been treating patients with life-limiting illnesses from across North-West and Central London for over 30 years.  Located within the Hospital of St. John & St. Elizabeth in St. John's Wood, the Hospice itself is not private and relies on donations, grants and community support to continue providing free care for over 3000 people and their families each year. Healthcare professionals in our 19 bed Inpatient Unit, our Day Services Centre and in the community nursing team provide a range of services including respite care, symptom and pain management and ongoing bereavement support.  We treat adult patients of all ages and with a range of life-changing diagnoses including cancer, MS and motor neurone disease.  Above all, we are underpinned by a respect for human dignity and care for the physical, psychosocial, spiritual and emotional needs of every patient, whatever their circumstance, culture and spiritual belief.
For more information about St John's Hospice please visit their website, www.stjohnshospice.org.uk or call 0207 806 4040.
Listed below are the Events for the rest of the year and a fun fundraising opportunity for anyone interested in helping raise money and awareness for an extremely worthy cause, while keeping fit.
Events for the rest of this year are as follows:
ST JOHN'S HOSPICE ST JOHN'S WOOD CHRISTMAS FAYRE – SUNDAY 6 DECEMBER 2015  – 11.00 a.m. to 6.00 p.m.
 AND
ST JOHN'S HOSPICE PADDINGTON FAYRE – SATURDAY 12 DECEMBER AND SUNDAY 13 DECEMBER 2015  – 11.00 a.m. to 6.00 p.m.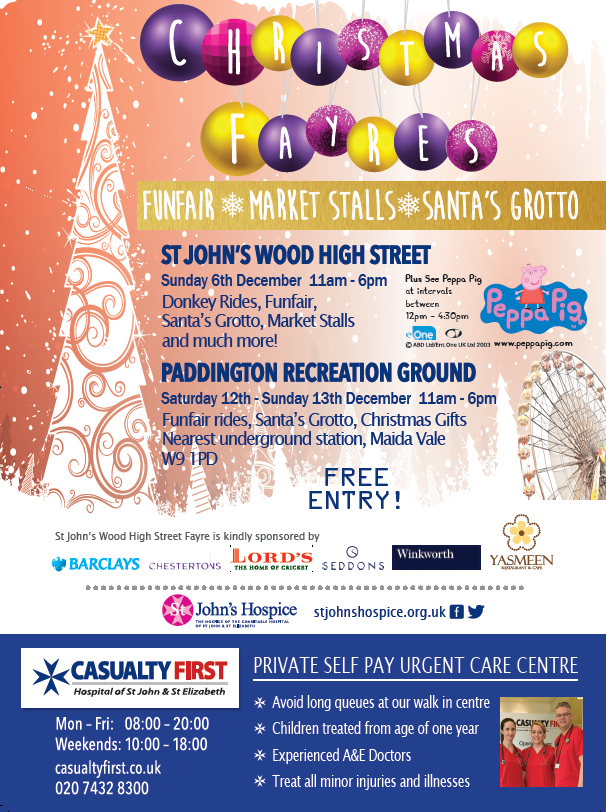 ---
LIGHT UP A LIFE AT ST JOHN'S WOOD CHURCH – WEDNESDAY 9 DECEMBER – 6.45 p.m.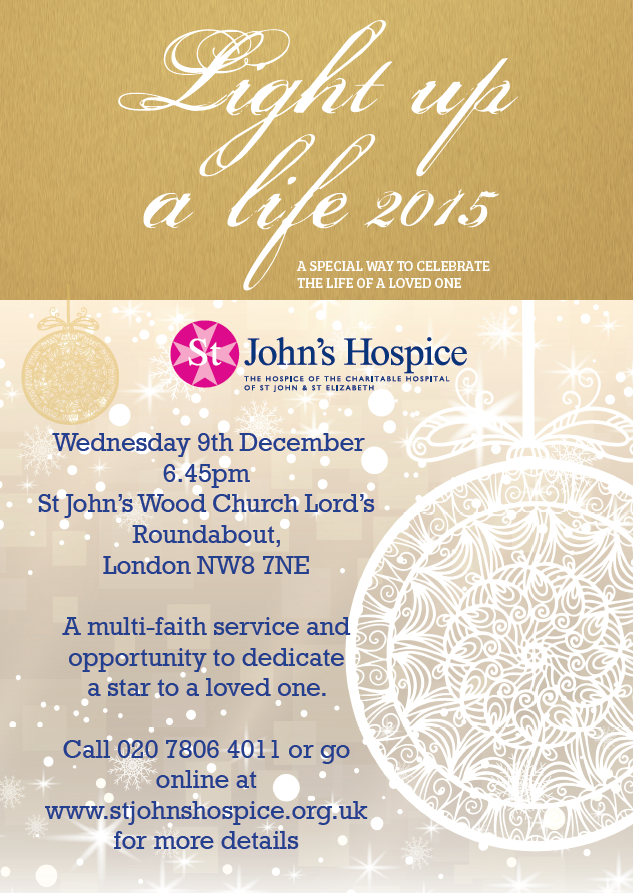 ---
LIGHT UP A LIFE AT ST MARY'S KILBURN – SUNDAY 13 DECEMBER  – 4.30 p.m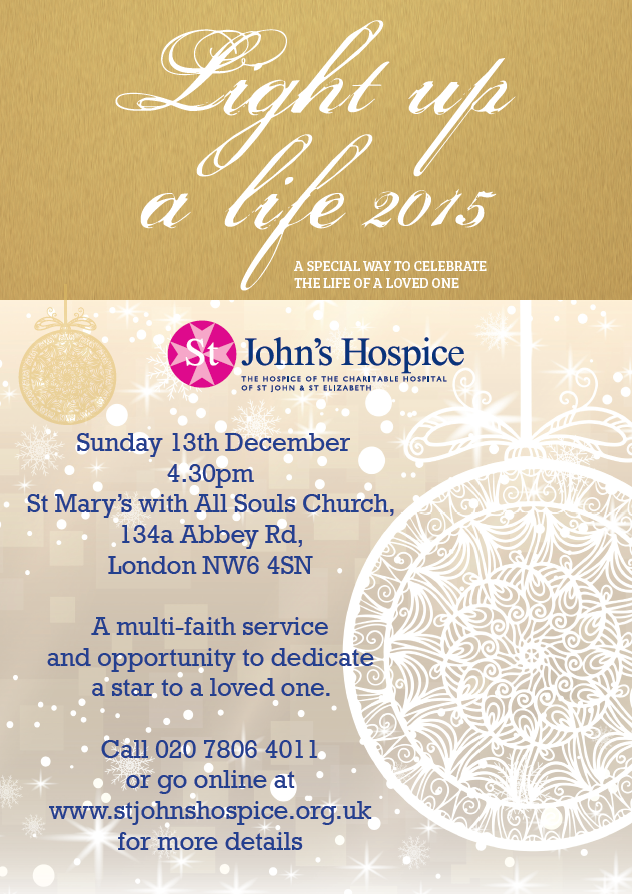 ---
FUNDRAISING OPPORTUNITIES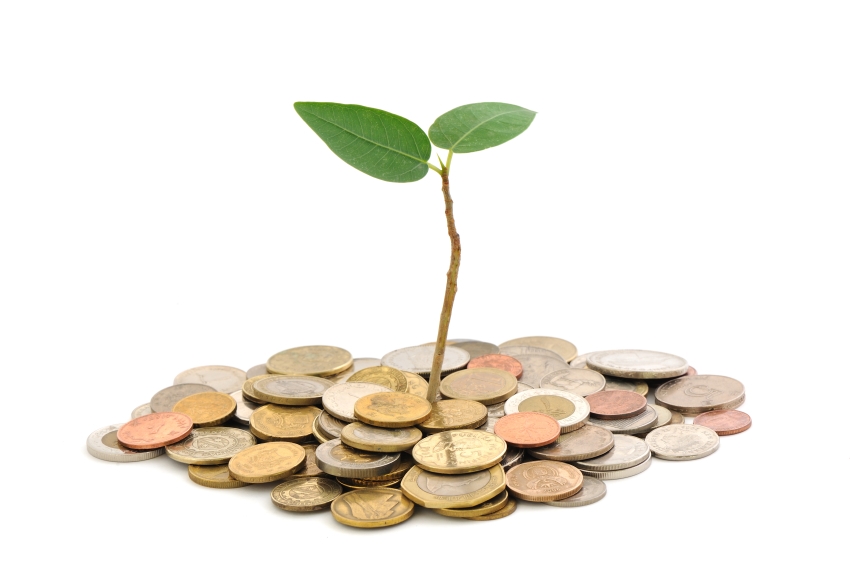 It costs almost £95,000 per week to run all of our services at the Hospice, so by walking your 95,000 steps and fundraising just £95, you will be helping us to continue running our vital services to terminally ill patients and their families living in and around Central and North West London free of charge.
Your £95 will go such a long way to making a real difference to the lives of our patients and their families and could pay for; a patient's nutritionally balanced meal for a day, a bereavement counselling session for family members and an hour of nursing in a patient's home!
It's completely up to you if you choose to complete your step challenge over two weeks or a whole month, and whether you want to keep fit or start training for one of our other exciting challenge events in 2016, we would love your support.
 To register for this event please complete and return the attached registration form by either emailing it to [email protected] or sending it by post to Fundraising Department, St John's Hospice, 60 Grove End Road, London, NW8 9NH.
The fundraising team will always be on hand for tips and advice, and we will also provide you with sponsorship forms, tips to reach your step target and your very own St John's Hospice pedometer and t-shirt!