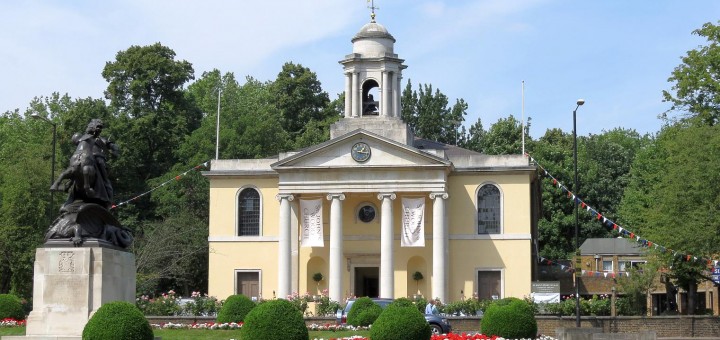 According to Wikipedia, St John's Wood is a district of north-west London, in the City of Westminster, and on the north-west side of Regent's Park. It is about 2.5 miles (4 km) north-west of Charing Cross. Once part of the Great Middlesex Forest, it was later owned by the Knights of St John of Jerusalem.[1]It is a very affluent neighbourhood,[2] with the area postcode (NW8) ranked by Forbes magazine as the 5th most expensive postcode in London based on the average home price in 2007.[3]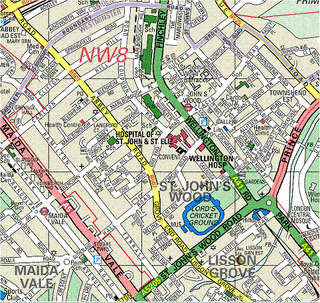 As of 2013, the price of housing in St John's Wood has reached exceptional levels. The most premier road in the area, Avenue Road, has more than 10 large mansions/villas for sale. The most expensive has an asking price of £65 million, with the cheapest on the market at an asking price of £15 million. The remainder hover around the £25 million mark.
But this is not why we chose to move here. When we first moved to the leafy surrounds of St John's Wood almost a decade ago, I chose it, not for its affluent reputation represented above, (all of which I learned about later) but for its calm serenity. Its village like atmosphere, doesn't bear any resemblance to the city centre culture of raucous pubs with people spilling out at all hours, regardless of its proximity to the West End and the popular shopping circuits of Oxford Street and Regent's Street.  So even though we got laughed at and were told we were moving into an "old people neighbourhood" we moved and learned that this was no where near the truth of the matter. It is a lovely neighbourhood, unspoilt and pretty with parks within a 5 – 10 minute walk no matter which street you live down and it has a variety of street fairs from vintage car rallys to Christmas fairs complete with snow machines and merry-go-rounds.
It is my home and I love it here.
I love it's quiet charm. I love the fact that I can walk down the high street and I know the shopkeepers and they know me.  I love the morning rays of the sun shining on the front pillars of the church, the beautiful tree lined walkways and the tiny churchyard in the church grounds…so still,  even though it is next to a little playground. Most of all I love the fact that I can bring up my child in the heart of London and yet make sure that he grows up in a friendly little community where many have watched him grow and many know his name. It is our home and always will be.
In addition to the many artists and authors, philosophers and scientists who made it their home, (as evidenced by the blue plaques dotted around the neighbourhood), it also became the home of cricket in 1814. The imposing gates and the wall mural on St John's Wood Road attract many tourists daily not to mention my cricket fanatic mother who cannot believe her good luck in living in such close proximity to the hallowed grounds of her favourite sport. As a side note though, I have to say that match season is perhaps my least favourite time of the year. Not to say I am not a cricket fan but then again, there is so much even a fan is willing to take! But, it is a small price to pay in exchange for living here and for the rest of the year St John's Wood retains its calm serenity.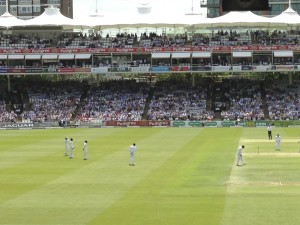 The other landmark that attracts scores of tourists is the famous Abbey Road studios and the pedestrian crossing which was of course was featured on the famous Beatles album, that bears the name of the road. The most traffic you will ever see within the boundaries of St John's Wood will be at this point as the number of times you have to stop for excited tourists as they perfect the pose on the crossing is guaranteed to delay your journey by quite some minutes!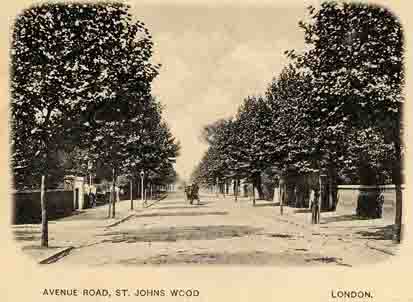 Photo credit: http://www.wilkie-collins.info/home_sjwood.htm
Furthermore, having always been fascinated with the Knights Templar and all the myths surrounding them, imagine my delight at learning also that St John's Wood, which had once been part of the Great Forest of Middlesex had also belonged to the Knights Templar in the 14th century. To live here, in a place which stretches back so far in time, is for me, a dream come true. I have recently learned that the name itself, i.e. St John's Wood, was derived from the Knights of the Order of St John of Jerusalem, who took over the land from the Knights Templar in 1323.
One thing I miss the most these days is the sound of the cantering horses ridden by the King's Troop, part of the Royal Horse Artillery in full regalia dragging the thirteen pound first world war field guns on the roads. It was a lovely sound to and sight to wake up to in the morning. After 65 years in St John's Wood, they are now stationed in Woolwich and I do think it is a dreadful pity they had to move. To see them mounted on their glossy horses, would have sent my little one into transports of delight had he been able to see it now.
"King's Troop Royal Horse Artillery ride down St John's Wood High Street as part of a final farewell to the area"
Photo credit: : Sergeant Steven Hughes RLC, Crown Copyright/MOD 2012
Architecturally also, St John's Wood seems to comprise the most beautiful homes in the city. You only need to take a walk down the tree-lined Avenue Road, to understand why it is rated one of the richest post codes in London. The beautiful houses which flank the road, with their large front and back gardens, are imposing and grand and almost surreal. You cannot help but feel that you are in a different world and every time I walk down that road, I feel as though I should hear the canter of horses and the sound of carriage wheels behind me. (Instead of which ofcourse I hear honking horns and the sounds of traffic!)
Historically, it is believed that the Emperor Napoleon III lived for some time during his sojourn in England on Circus road and that he had a mistress, Elizabeth Anne Howard at a house there.
It also features in several literary works like P.G. Wodehouse, (one of my favourites), Anthony Trollop, Sir Arthur Conan Doyle and Wilkie Collins to name a few. You can find a more comprehensive list at http://www.stjohnswoodmemories.org.uk/page/books_that_feature_st_johns_wood?path=0p50p
It is for me, a place steeped in history, literature, scandal and grandiose architecture, an inspiration to artists, writers and actors and it continues to be so. Long may it's wonderful village -y atmosphere remain.