Interview with the Mini-Epic Founder, Jonathan Shine
Parentpreneurs Ashley and Jonathan Shine are the founders of Mini-Epic.com, a website where you can create and send the ultimate kids' party invitation; a short animated video featuring your photo and party details. Mums In The Wood caught up with Jonathan to find out a little more about Mini-Epic and what it's like starting your own business as a husband a wife team.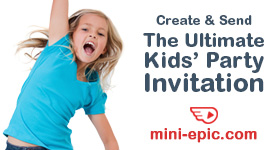 Question:
What was the inspiration behind Mini-Epic Invites? 
Answer:
We just wanted to create invitations that were exciting to receive, easy to send and simple to manage. But the true inspiration for our children's invitations came from our twin seven year old daughters, who asked us to create one for their birthday and made us change our product range to primarily cater for kids' parties.
Question:
How does it differ from other invitation companies offering a similar service? 
Answer:
Whilst other companies might allow you to personalise a static 2D image, all of our invitations are professionally animated and designed to make your little one the star of their own invitation. This is key to the Mini-Epic experience – sending a short animated video featuring you!
Question:
Tell us a little bit about you, the founders and your backgrounds. How easy/challenging was it to start up your own online business?
Answer:
We're a husband and wife team. My wife is a media producer, and I've been a professional motion graphics artist for the past ten years. Starting our own online business has certainly been challenging, and continues to push us in to learning new skills whilst developing our products and service. We made a lot of mistakes early on, as many startups do, but that's the only way to learn!
Question:
Do you do your own designs or do you commission them?
Answer:
We design and animate all of our invitations ourselves. It's something we love to do, so it doesn't really feel like work, and our daughters are always coming to us with their own ideas too – which is lovely because it feels like we are all in this together.
Question:
Which are your favourite designs? 
Answer:
It's tough to choose, but I have a huge attachment to the Rainbows themed invitation because this was the one our daughters asked us to create, and was the first of our children's range. Second to that would be the Unicorn theme because who doesn't love unicorns? And lastly, I'd say our Football Party invitation, because when I was a kid I would have loved to have sent this to all my friends!
Question:
How do you ensure a child's safety and control/restrict public access when a video has been created?
Answer:
As with all online services, we take cyber security extremely seriously.  We have a number of measures in place to safeguard data and user accounts, starting with our SSL website, our secure servers and the technology we use to create the videos.  Beneath this we have implemented a secure framework and continue to monitor and update our measures on a regular basis.
Question:
What is the typical age group that your invites are most popular with?
Answer:
Our invites are most popular with parents whose children are between 1 and 9 years old. After 9 years old the parties tend to get a little smaller. Interestingly we've seen a surge in our grown-up templates too!
Question:
What if anything would you do differently if you had to set up your business all over again?
Answer:
This is a tough one. We made a lot of mistakes on the web design in terms of what the customer journey would be before we got it right. If we were to start all over again, it would begin with more research!
Question:
Where do you see Mini-Epic invites in the next few years? 
Answer:
We've got some exciting projects on the horizon that we can't speak about just yet, but in general our aim is to make Mini-Epic a valuable alternative to paper invitations, add to our product range and expand the types of occasions we cater to.
Question:
In a sentence, tell us what your advice would be to other aspiring parent-entrepreneurs?
Answer:
Go for it!
Website: https://www.mini-epic.com
Video examples:
Rainbows:
Unicorn:
Football: