Half term and Halloween is upon us..
PUPPET THEATRE BARGE
The Town Mouse and the Country Mouse
20 October till 18 November – Little Venice
These two famous mouse cousins take it in turns to visit one another, and each mouse ends up much the wiser as a result of their exciting adventures.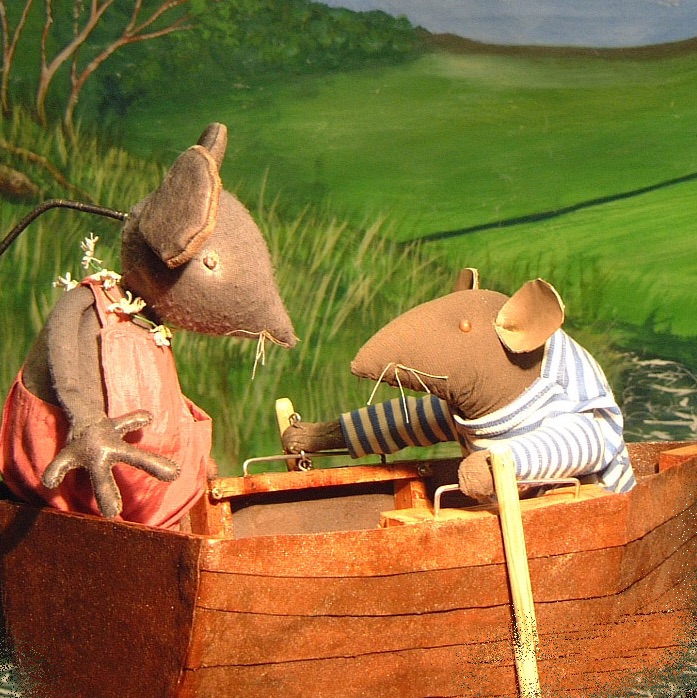 MUSEUM OF LONDON – DOCKLANDS
Help us tell terrifying tales from Victorian London including the monstrous story of Dr. Jekyll, and the strange encounters at Sweeney Todd's barber shop during an interactive storytelling session.
Find out the terrifying truth as you trick-or-treat your way around the galleries after dark, and solve a spooky crime by torchlight with the help of a mysterious character.
Nestle down in the museum galleries for bed, before calming your nerves with a bright and early light breakfast and a family-friendly film in the morning.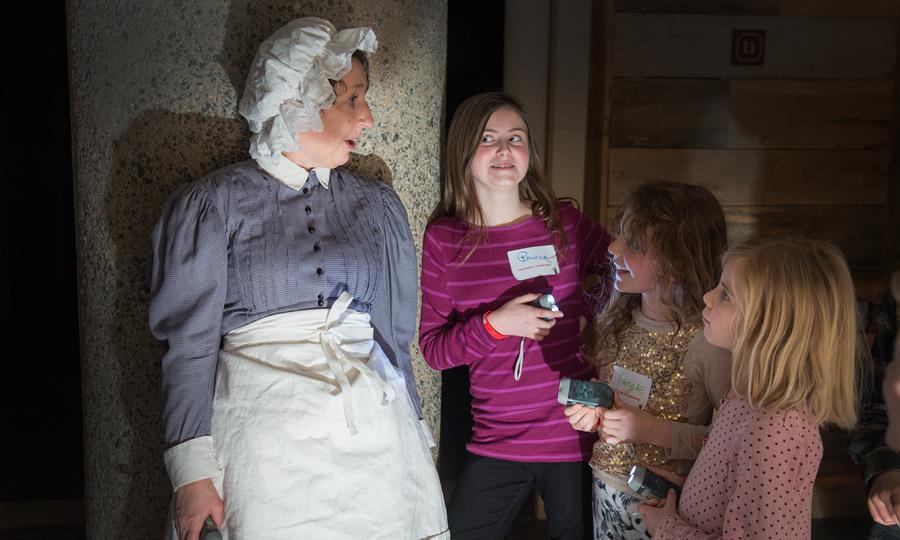 https://www.museumoflondon.org.uk/museum-london-docklands/whats-on/night-owls-sleepover?id=177208
ZIPPO'S CIRCUS
Perfomance Times:  
Thursday October 18: 7.30pm Preview Show
Friday October 19: 5pm & 7.30pm + Open House 11am
Saturday October 20: 12 noon & 3pm & 6pm
Sunday October 21: 12 noon & 3pm & 6pm
Monday October 22: 3pm & 7.30pm
Tuesday October 23: 3pm & 7.30pm
Wednesday October 24 closed
Thursday October 25: 3pm & 7.30pm
Friday October 26: 3pm & 7.30pm
Saturday October 27: 12 noon & 3pm & 6pm
Sunday October 28: 12 noon & 3pm & 6pm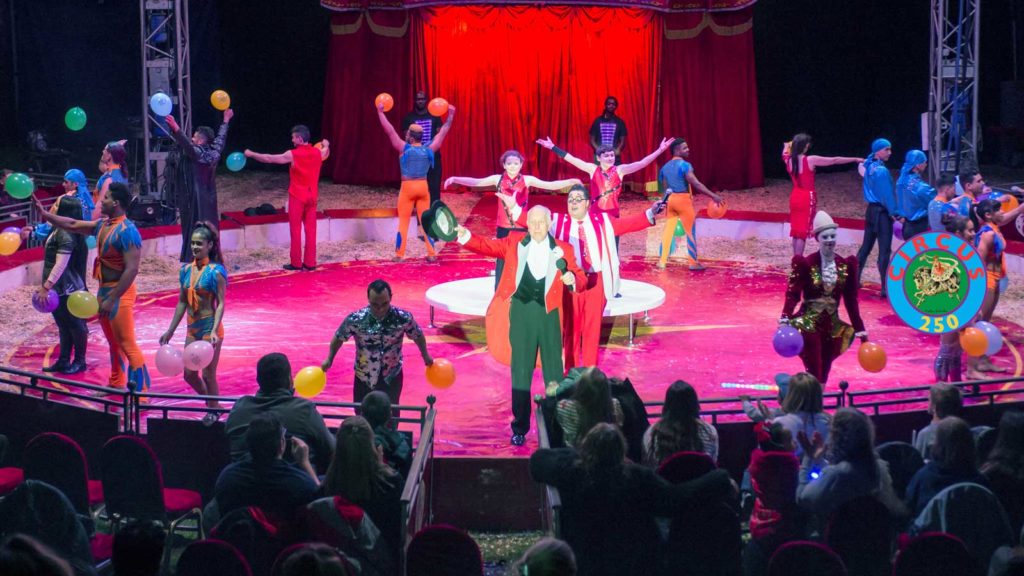 https://www.zippos.co.uk/locations/hampstead-heath
WILLOWS ACTIVITY FARM
25th October – 4th Nov 2018. Pick your FREE pumpkin from the Willows Pumpkin Patch and enjoy a magical day of fun!
Each child is invited to dress up and pick their own pumpkin to take home or carve in our Carving Cavern during our half-term Pumpkin Festival.  Our spellbinding programme includes arts and crafts, Pumpkin Olympics and both the Pumpkin Show and Magic-Ween Show with Samtastic. Tricks, treats and prizes for best, plus there is all your Willows favourites including meeting Peter Rabbit and friends.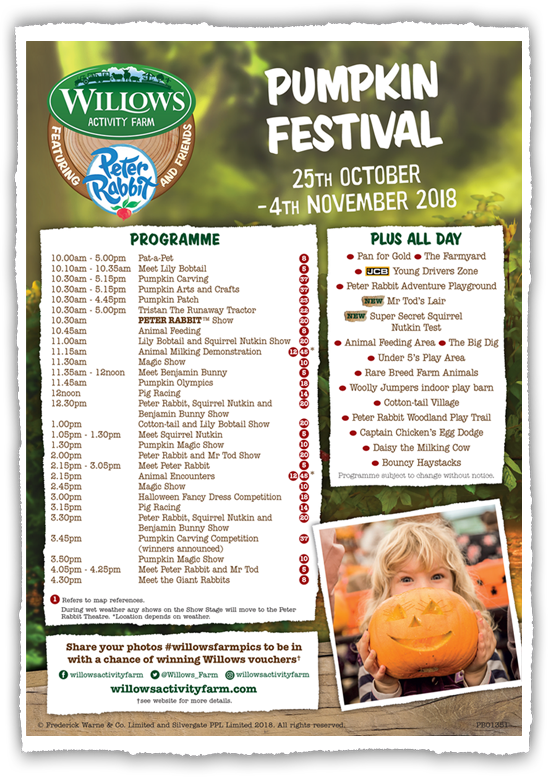 https://www.willowsactivityfarm.com/pumpkin-festival/
SHREK'S ADVENTURES
Shrek's Adventure! London is a brilliantly bonkers interactive and immersive walkthrough experience, where the whole family can step into and star in your own hilarious misadventure with Shrek and his DreamWorks friends.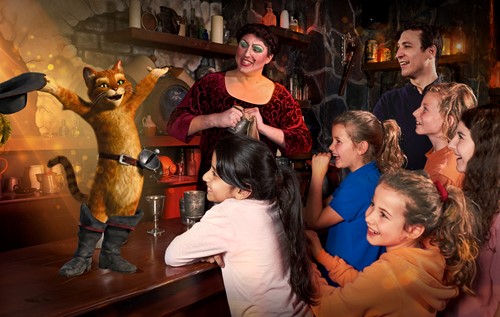 https://www.shreksadventure.com/london/
THE VICTORIA AND ALBERT (V&A) MUSEUM OF CHILDHOOD
There are a vast number of events going on at the V&A this holiday.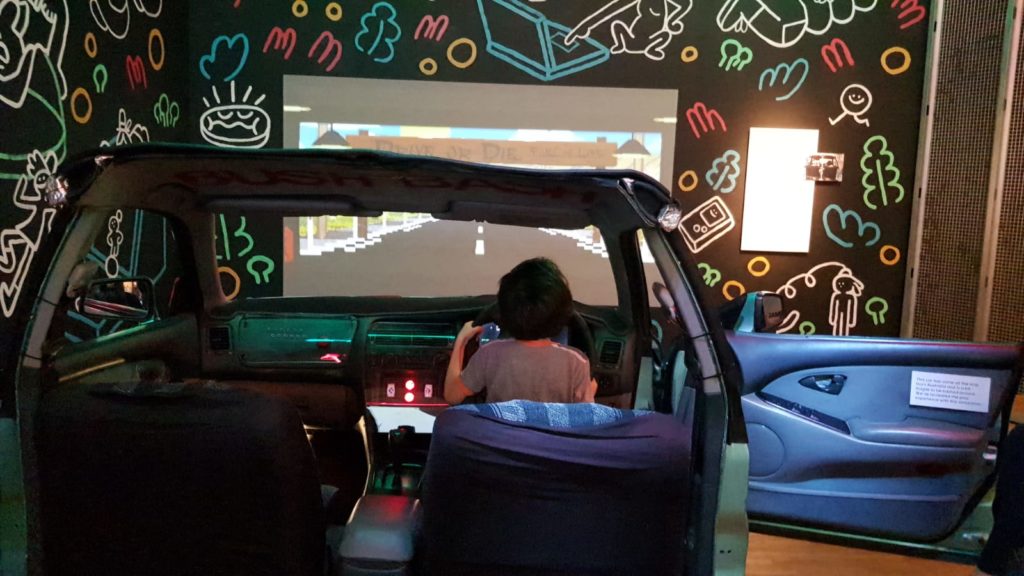 In honour of the V&A Museum of Childhood's amazing new exhibition focusing on fictional pirates and their influence in popular culture this Half Term visit the Museum, dressed up and ready for the unmissable week all about pirates! See a pop-up performance or join fun, pirate-themed workshops then explore the V&A's collections, including toys, games, books, illustrations and comics, spanning over 300 years. 
Suited for the youngest visitors, the exhibition will transport them into a swashbuckling world of adventure from a moody coastal inn to an island paradise in search of sparkling riches. At its heart, a large-scale pirate ship inspires learning through active play. 
Don't miss the first painting of Captain Pugwash, an original illustrated costume design for Captain Hook for the first production of Peter Pan in 1904

Plus see Lego's iconic Black Seas Barracuda ship and real eighteenth-century Spanish doubloons! 

Kids can see what amazing history influenced their favourite pirate characters.

Plus this Half Term there's a host of performances and activities for kids to commandeer! 
https://www.vam.ac.uk/event/36K29R5j/the-imagination-station-october-half-term-2018
https://www.vam.ac.uk/exhibitions/videogames
https://www.vam.ac.uk/moc/exhibitions/a-pirates-life-for-me/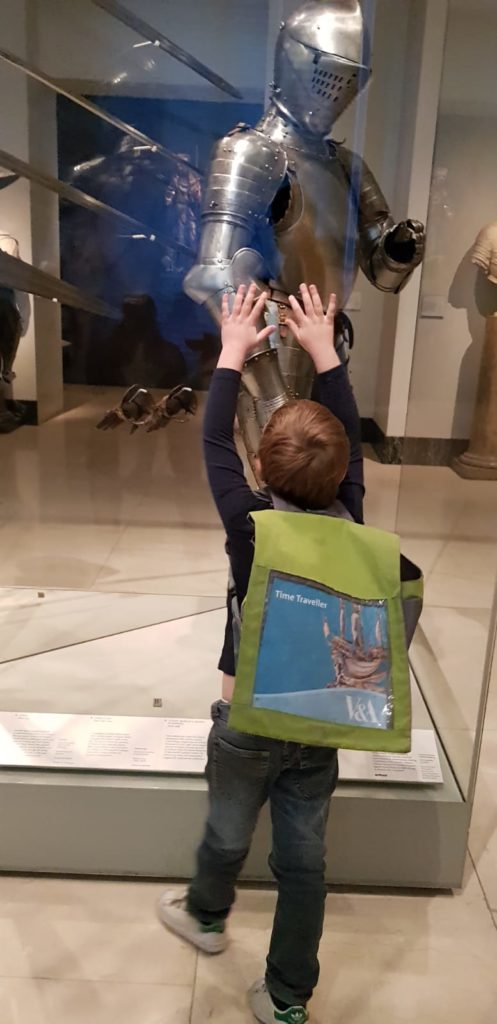 HAMPTON COURT PALACE, SURREY
Discover stories of spooky apparitions and paranormal activity on an evening ghost tour of Hampton Court Palace.Family Ghost Tours run on the following dates:
31 October 2018 – 18:30 / 04 November 2018 – 18:30 / 06 January 2019 – 18:30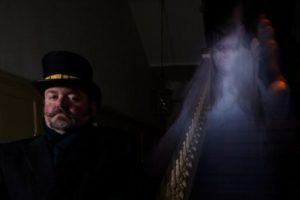 Tours last 1¼ to 1½ hours. The minimum age requirement is 8 years and there is a maximum of 3 children per accompanying adult permitted. Children must have an adult with them.
https://www.hrp.org.uk/hampton-court-palace/explore/ghost-tours/#gs.YmILKkg
HORNIMAN MUSEUM, FOREST HILL
Enjoy fiendish fun at our Halloween Fair. Meet creepy crawlies, hear spooky storytelling, and browse for gifts and treats at our arts and crafts markets and food stalls. Come dressed in your best costume!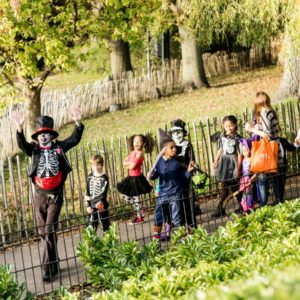 https://www.horniman.ac.uk/visit/events/horniman-halloween-fair
Come along for some special storytelling by Sandal Sticks Theatre accompanied by song and playful puppetry. Based on the fairy tale classic, hear the story of Hansel and Gretel and their adventures through the deep, dark forest.
Suitable for families with children ages 3+.

https://www.horniman.ac.uk/visit/events/hansel-and-gretel-halloween-storytelling
ZSL WHIPSNADE ZOO, DUNSTABLE
Get set for a spook-tacular range of Halloween-themed activities, monster mythbuster animal talks and hands-on crafts this October half-term at ZSL Whipsnade Zoo.
Visitors will be able to carve pumpkins*, get up-close with invertebrates and discover the not-so-scary side to the amazing animals close to home in our Super Natural Neighbours challenge. Show your wicked side with Halloween face painting* For children and adults alike, indulge in some devilish fun with our amazing face painting at Hullabazoo. There's a whole range of designs, from pumpkins to spiders!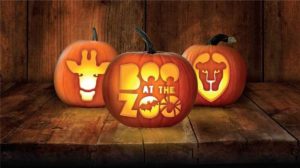 https://www.zsl.org/zsl-whipsnade-zoo/whats-on/boo-at-the-zoo
BURGH HOUSE, HAMPSTEAD
Any mansion built in 1704 will have plenty of strange goings-on to recount from over the years, and elegant old Burgh House is just the place to hear some spooky storytelling before you cut loose at a raucous Halloween party. Costumes are heartily encouraged.
Burgh House, Hampstead.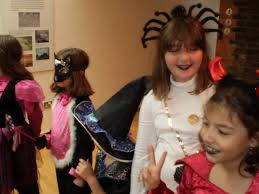 http://www.burghhouse.org.uk/themuseum/for-kids
ROYAL GUNPOWDER MILLS, WALTHAM ABBEY
Things are starting to get spooky at the Royal Gunpowder Mills as Dr Gore moves in to creep up the Mad Lab with great Half Term Horrors October 21st – October 29th
In a week full of ghoulish and ghastly activities – Dr Gore and team have some great creations up their sleeves which they want you to try! Discover all things green and gooey at the Slime Station, find your inner wizard and help make colourful potions for secret purpose.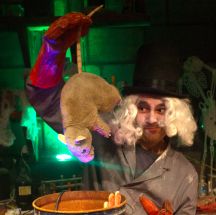 https://www.royalgunpowdermills.com/whats-and-events/spooky-secret-island/
LONDON CANAL MUSEUM, KING'S CROSS
The Halloween trip is a unique trip through Islington Tunnel at halloween on board one of London's community narrow boats specially decorated for the occasion with a friendly witch amongst the crew. Be prepared for some surprise sights in the darkness of the 200 year old tunnel! You may also meet a witch on your journey or before or after it! Kids receive sweets on board and a free glowstick.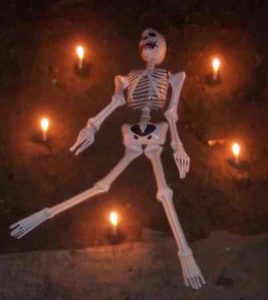 http://www.canalmuseum.org.uk/whatson/halloween.htm
SEALIFE, LAMBETH
Are you ready for a spooky adventure? Dive into our Ascarium this Halloween where our Sea Witch needs your help to unlock her treasure chest. Prepare for a world of glittering scales, humongous tentacles and razor-shark teeth, and as you wind your way around, be on the lookout for the magic ingredients that will help our Sea Witch cast a magic spell around her cauldron, to unlock the treasure chest. And if you can help, she'll even share her treasure with you.
So will you spot a frog lurking in our piranha tank, or a broomstick in our Rainforest? It's sure going to be a lot of scary fun!
Book your tickets for the 20th – 31st October to take part, all included in your entry ticket!
https://www.visitsealife.com/london/discover/ascarium/
LEGOLAND, WINDSOR
This October half term bring your little monsters to the LEGOLAND® Windsor Resort for the most spook-tacular event of the year at Brick or Treat! With many fun Halloween activities including our NEW for 2018 Brick or Treat trail, Frankie's Monster Disco, costume competition and more – plus all of our rides, live shows and attractions, it's an awesome day out for all the family.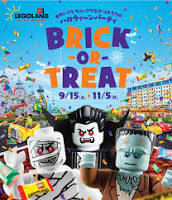 https://www.legoland.co.uk/explore-the-resort/special-events/brick-or-treat/
THE POSTAL MUSEUM, PHOENIX PLACE
Delivering letters from village to village post boys collected tales of phantoms haunting the country lanes. Join our storyteller Olivia Armstrong to hear these stories come to life once more.
For: Families, all ages
Times: 11.30, 13.30 and 14.30
Duration: 45 minutes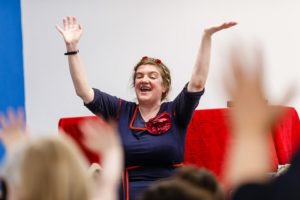 https://www.postalmuseum.org/event/halloween-storytelling/
MOUNTFITCHET CASTLE, STANSTEAD
Everyday from Sat 20th Oct to Sun 4th Nov
Free Fun Pumpkin Trail –  Medieval Catapult firing  – Dare you enter the Witches Hovel?

https://mountfitchetcastle.com/your-visit/special-events/