PASTA

PASTA WITH GRILLED ASPARAGUS
Boil and prepare pasta.
Melt butter in a pan and chop up Asparagus into 3/4 inch pieces. When butter is melted add asparagus and grill till golden, then sprinkle with pepper.
Mix in with pasta and grate some cheese on top.
You can also add some grilled salmon or tuna to the mix if you would like or even add some pesto and sun dried tomato to the mix.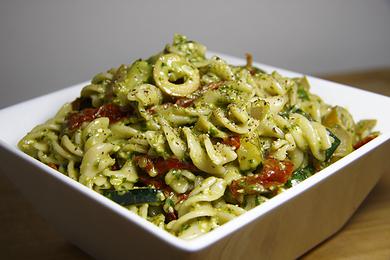 PASTA WITH PESTO AND SUNDRIED TOMATO
Boil and prepare pasta.
Mix in basil pesto and chop sun dried tomatoes into tiny pieces and mix it in.  You can also add sun dried tomato paste instead of the actual pieces if your little one doesn't like the texture of the sun dried tomatoes.
Finally, add some grated cheese on top and you are ready to go.