Easter Crafts
The Easter holidays are almost here and we're thinking of ways to entertain the kids (and yourselves!). We've put together our favourite Easter themed activities you can do at home, mostly using materials you already have!
---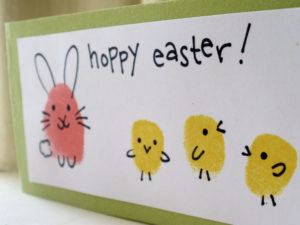 Fingerprint bunnies
One of the simplest activities, is making a cute little Easter card or picture, using just an ink pad and your fingers.
We love the tutorial by Sarahndipities which you can find here: https://sarahndipities.indiemade.com/blog/things-make-fingerprint-bunnies-and-chicks
---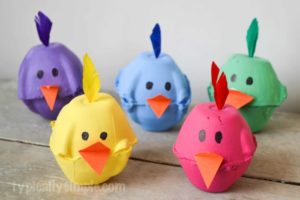 Egg box chicks
Since we're probably going to be using so many eggs, we're expecting an avalanche of egg boxes… Which is just what you need for this cute activity. Whether you use paints or markers to colour them in, it's a great way to recycle!
The instructions from Typically Simple are indeed simple. Find them here: https://typicallysimple.com/spring-chicks-egg-carton-craft/
A very similar activity is to use the egg box as an egg shell, with a chick springing from it! Check out full details at Crafty Morning here: https://www.craftymorning.com/egg-carton-hatching-chicks-kids-craft/
---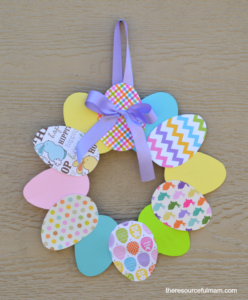 Easter Wreath
Did you mean to get an Easter wreath but haven't yet had a chance? No problem. The kids can make one for you, using their creativity!
The Resourceful Mama has super simple instructions here: https://www.theresourcefulmama.com/easy-paper-easter-wreath/
---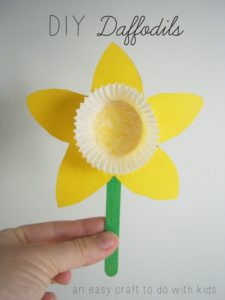 DIY Daffodils
This daffodil is a great craft that isn't too challenging for the littler fingers. It's great for a general spring activity but never out of place at Easter.
Find the full instructions here: http://www.mendandmakenew.co.nz/2013/09/diy-daffodils.html
---
A favourite activity here at MITW is to make these tin foil easter eggs. It's so simple and can be adapted to all seasons or festivities, and you probably have all the bits you need already.
You probably don't need them, but here are some instructions on how to make them (step three which is to trace your pattern on with a closed pen, is the trick you need to know!): https://iheartcraftythings.com/tin-foil-easter-egg-art.html

---
Rather than buying your colourful eggs, why not make your own? It's simple to do and much cheaper.
See our Article on how to make them here: https://mumsinthewood.com/entertain-them/naturally-dyed-easter-eggs/

---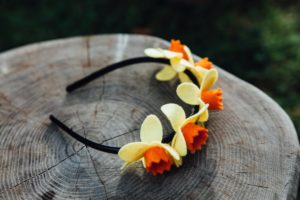 Daffodil Headband
And finally, we adore this daffodil headband for our little spring flowers. You can wear it at Easter or throughout spring!
The tutorial from the Village Haberdashery is here: https://www.thevillagehaberdashery.co.uk/blog/2018/diy-felt-daffodil-headband-tutorial
---
We'd love to hear about (and see) which ones you've tried, and what else you get up to! Comment below to let us know!