FREE TALK by local experts in collaboration with SENsational Tutors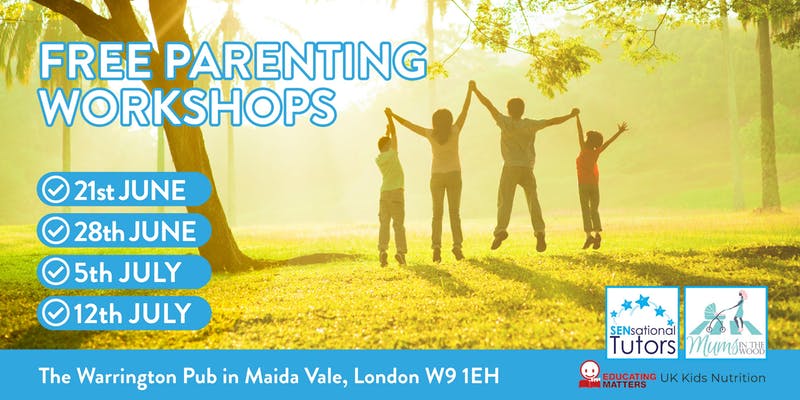 DESCRIPTION
SENsational Tutors Ltd., London's leading Special Needs tuition company, has teamed up with Mums in the Wood and other experts to host a series of FREE parenting workshops to explore family challenges including education and diet, with useful tips and advice about how to best support your child at home. Every session will be followed by a Q&A session and refreshments will be also be provided.
Thursday 21st June: Family and Behaviour Matters
Led by former school teacher, parent educator and founder of 'Educating Matters', Rachel Vecht and educational psychologist, Dr. Jemma Levy ,this session explores how parents can talk to their child to encourage them to be more motivated, co-operative and foster a growth mindset.
Thursday 28th June: Diet and Nutrition
Bahee Van de Bor, of UK Kids Nutrition, is a mother of two and child nutrition expert with over ten years of experience. Whether you are worried about general healthy eating, food allergies, constipation, reflux or simply require in-depth expert advice Bahee can help deliver a plan to suit your family's needs.
Thursday 5th July: Advocacy, Mediation and EHC plans
Fiona Slomovic is an Advocacy and Mediation Consultant supporting parents and carers of children with SEN and disabilities for the past 12 years. She will answer questions about how to handle appeals to the Special Educational Needs Tribunal and how best to negotiate with schools, social services and Local Authorities to ensure that children's needs are correctly met.
Thursday 12th July: Making SENse of your child's educational and behavioural needs at home
Leading education and behavioural specialist, and director of SENsational Tutors Ltd., Joanna Gibbs will discuss the best tools and strategies to use at home. From how to improve your child's confidence and reading, to recommended apps and interventions, Joanna and her team will address all areas of academic and behavioural life so that your child can feel successful, confident and develop a love of learning and love of life!
https://www.eventbrite.co.uk/e/free-parenting-workshops-in-st-johns-wood-tickets-46318655345